Maternity Sessions
$500  •  includes 20 images
One hour session, either in studio or on location. This can be a six month or one year session, or a Maternity session etc. Includes 20 high resolution digital images, and print release.* (Additional fees may apply for travel or groups larger than 6 individuals)
Newborn Sessions
$750  •  includes 30 images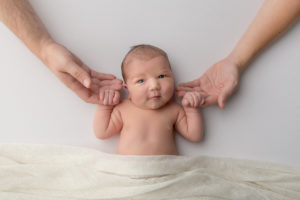 Newborn sessions take place preferably between 5-10 days of birth, but can be up to 6 weeks if need be. They will take place in the Petaluma studio. Newborn sessions last for 2-3 hours depending on the time it takes to help your newborn be comfortable for his or her photos! (Feeding, changing and soothing is unique for each baby and not rushed for any of them.) Each session includes 30 digital images and a print release.
Sitter Sessions
$500  •  includes 20 images
One hour session, either in studio or on location. This can be a six month or one year session, or a Maternity session etc. Includes 20 high resolution digital images, and print release.* (Additional fees may apply for travel or groups larger than 6 individuals)
One Year Sessions
$650  •  includes 20 images
Each Cake Smash setup is custom designed, with the cost as a part of your session fee. If you like butterflies, it can be a butterfly theme (and SupremeSweets.net can make an amazing Butterfly cake at our request as well)! If your little man is a slugger, then baseball it is! We do one set before the smash where a family image is welcome, the cake smashing fun (where I suggest parents bring a frosting friendly shirt for themselves as well!), then we follow up with the cutest little bath tub for a little splashing fun! These are some of my favorite sessions as you never know what you're going to get! This session includes 20 digital images and a print release.
Watch Me Grow Plan
Package Price: $1800  •  Add-on Price: $450
Book your baby's Newborn, 6 Month, and 1 Year Cake Smash sessions together at a discounted rate, including your digital images from each session and a print release! You can also add a Welcoming Baby (a session, in the hospital within 48 hours of birth) or Maternity session to this package for only $450 each! (This package can also be 3 Month, 6 Month, 9 Month and 1 Year sessions for $1800. Giving you that $50 discount on each session.)